Below is a draft schedule for the event – we'd love to hear your thoughts. What are your initial reactions to the sessions listed? What are the kinds of questions you have or would like a chance to discuss during the event? What areas do you think might be missing?
We have also started to collate resources for the event in one folder for easy access and reference. To access the folder just click here. For example, it includes a document explaining a pre-event activity and another document outlining some further background and rationale for the event (to prepare yourself for the different topics).
Planning is ongoing and so we would love to get your input. Leave a comment at the bottom of the page and let us know your thoughts. Also, if you haven't done so already, remember to join the LEAD CoP Facebook group so we can continue the conversation there.
To give you a reference for the specific sessions listed below, this diagram tries to visually show the progression we hope to make over the three days.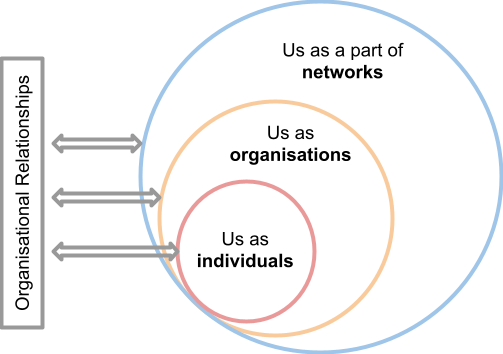 | | |
| --- | --- |
| Time | Session |
| Monday 11th | Organisational relationships and ourselves |
| 08:30-09:00 | Registration |
| 09:00-09:30 | Welcome: locating ourselves |
| 09:30-10:30 | Do relationships matter? |
| 11:00-12:30 | Defining organisational relationships |
| 13:30-15:00 | Characteristics of good relationships |
| 15:30-17:00 | 'Mapping' our organisational relationships |
| | |
| Tuesday 12th | Organisational relationships and our organisations |
| 09:00-12:30 | World Café: relationships on different levels |
| 13:30-15:00 | (Re)orientating ourselves to build organisational relationships |
| 15:30-17:00 | 'Networks and organisational relationships |
| | |
| Wednesday 13th | Organisational relationships and our networks |
| 09:00-10:30 | LEAD CoP: where are we and where have we come from? |
| 11:00-12:30 | LEAD CoP: where are we going? |
| 13:30-15:00 | How do we get there? Structuring ourselves for the future |
| 15:00-16:00 | Closing thoughts |